Welcome to the Official Site for Harmony Chasson. You may recognize Harmony from one of her numerous print campaigns for companies such as The Children's Place and Target. Here you will find all the news and up to date information about this talented young actress. For Industry Professionals looking to learn more about Harmony, please click on her name above for an overview of information.


NEWS & UPDATES
27 Feb 2017
Monster High
Last year Harmony filmed a video for
Monster High
! It looks at their film
"Welcome to Monster High"
showing clips from the film all while Harmony and her two friends are dressed like their favorite characters and talk about the movie. They have a very fun time sharing the parts they loved in the film, taking photos, and like any playdate/sleepover there were a lot of laughs and giggles together. The video has now surfaced and Harmony's parts can be viewed in the
media section
, make sure to check it out!
Posted by: Lisa
25 Dec 2016
Happy Holidays!
The holiday season is here and Harmony has been enjoying all it has to offer. Time with her family, fun activities at school, getting ready at home, there has been so much to do and now it is time to celebrate.
Christmas
,
Hanukkah
, and more, it is a busy time with so many people celebrating different traditions and Harmony would like to say
Happy Holidays
to everyone! May you all have a holiday season full of love and happiness.
Posted by: Lisa
31 Oct 2016
Disguise Costumes
Tonight kids are putting on their costumes, going out trick or treating, and some of them will be dressed up as Shopkins!
Disguise Costumes
has a fun line of ideas to dress up as favorite characters and Harmony modeled one of them. She can be seen on their website, the product packaging, and sure makes
Cheeky Chocolate
look like a fun idea to dress up as for Halloween. Hopefully some of you spotted her on the costume in stores while doing your own shopping this year, and the shoot image can be found in the gallery,
Happy Halloween
!
Posted by: Lisa
13 May 2016
Little Mass
The nicer weather is finally here and
Little Mass
has a great new selection of outfits for the season. Harmony shot for both their
Le Pink
and
Tru Luv
collections and appears in the
catalogs
for both. She can be seen alongside Presley and Autumn as the girls get all dressed up in a series of gorgeous dresses, and with friends as they totally rock the outfits they modeled, having fun on the rocks down by the beach. What a
fantastic
set of images and make sure to view them in the gallery!
Posted by: Lisa
07 May 2016
Happy Birthday!
It's a big day in the Chasson household that is full of celebration and excitement, especially for Harmony as today is her birthday!
Happy Birthday Harmony
! I hope you have an
fantastic
day today with family and friends as everyone comes together to make your big day a special one. Today marks a milestone for you as it is your first official day in the
double digits
and I'm sure you're pretty excited to be joining that club. Cake and presents are always a highlight of the day and I hope that your birthday is full of fun new memories with those you love, there is an awesome year ahead for you as a ten year old.
Happy Birthday
!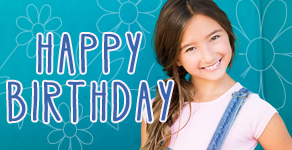 Posted by: Lisa