Welcome to the Official Site for Tiffany Chasson. You may recognize Tiffany from one of her numerous print campaigns for companies such as Lipstick Girls and Purple Pixies. Here you will find all the news and up to date information about this talented young actress. For Industry Professionals looking to learn more about Tiffany, please click on her name above for an overview of information.


NEWS & UPDATES
25 Dec 2016
Merry Christmas!
Tiffany loves the holiday season, there is so much to see and do, and the magic is in the air. She enjoys seeing her younger siblings so excited to see what
Santa
brought them, spending time with everyone, and now the big day is finally here. Tiffany would like to wish everyone celebrating today a
Merry Christmas
and may everyone whether it be Christmas, Hanukkah, or another tradition have a
fantastic
holiday season. All the best in 2017!

(Image by iWonderlandDesign)

Posted by: Lisa
02 Apr 2016
Happy Birthday!
Today is a day full of celebration and Tiffany is very excited to see what is in store as she celebrates her birthday!
Happy Birthday Tiffany
! I hope you have an
amazing
day with family and friends as everyone makes your special day one to remember. Traditions are always fun on this day as is creating new memories with those you love. The spotlight is on you and I hope your birthday is everything you hoped it would be today and more,
Happy Birthday
!
Posted by: Lisa
24 Dec 2015
Happy Holidays!
Tiffany always loves the holiday season as it is a time to be together with her family and celebrate. She loves the different traditions of the season, and not to mention going all out with decorations, gifts, and everything else needed to make the holidays a time to enjoy and create new memories. She would like to say
Happy Holidays
to all of you, and may the new year bring you lots of love and happiness.
Posted by: Lisa
12 May 2015
L.A. Parent Magazine
Which school your children attend can be a tough decision, there are a variety of choice on the type of school, then it comes down to programs, location, and a whole lot more too.
L.A. Parent Magazine
has made it a little easier for parents in the Los Angeles area with the release of their
Education Guide
earlier this year, and Tiffany can be found on the
cover
! It was very
exciting
to see herself on the cover of the issue, holding her books, and all ready for class. The image has been added to the gallery, and make sure you've also got her
Facebook Page
liked for fun snapshots of her and her siblings and other photos!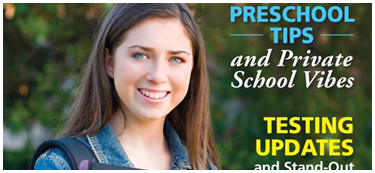 Posted by: Lisa
<< Previous Next >>